ALL ABOUT TRAVEL AND TOURIST VISA TO AUSTRALIA?
Only Australian citizen, can enter Australia without visa. New Zealanders can apply for a visa upon arrival in Australia. All other travellers and visitors, regardless of age, nationality, reason for travel – must apply for a visa before leaving home. You can apply for a range of Australian travel visa types, including: tourist visas, working holiday visas (WHV), Electronic Travel Authority (ETA), travel visas for family or business reasosn, frequect traveler or Sea or air crew.
If this sounds like something that interests you, contact us today at 1300 10 50 50 or chat on this page.
Visitor visa (subclass 600) Travel stream onshore
Visitor visa (subclass 600) Family sponsored stream
Visitor visa (subclass 600) Business visitor stream
Visitor visa (subclass 600) Frequent traveler stream
Medical Treatment (subclass 602)
Visitor visa (subclass 600) Approved destination stream
ETA Electronic Authority to Travel visa (subclass 601)
eVisitor visa (subclass 651)
Working Holiday visa ( subclass 417)
Work and Holiday visa (642 subclass)
WHO CAN APPLY FOR A TRAVEL VISA TO AUSTRALIA?
Pacific Center consultants can help with all travel and tourist visas for clients in and outside Australia.
Our highly experienced, expert staff are well versed in every aspect of the Australian travel visa application process.
Every person coming to Australia must have a visa. If you are coming for holidays, to visit family, spend some time travelling and visiting – you will need one of the travel visas.
There are many different travel visas, but it is very important you chose to correct one if you have a further plan in Australia. It is very important when you plan further stay in Australia. This is why Pacific Center staff can help you with that.
This site will guide you through all aspects so that when it comes time to apply, you know what type is best suited– no matter where your home country may be.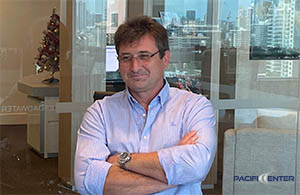 We are  one of Australia's leading immigration and visa agencis. We are a Registered Australian Migration Agency (MARN 0743766), specialising in all aspects of the visa application process. For 20 years we help people like you apply for a visa to live, work, travel, and study in Australia.

PIOTR FERENC – FOUNDER & DIRECTOR
WHAT WILL WE DO FOR YOU?
Find what is the best visa option for you.

Advice on how to apply for various family visa streams

Work and control important dates and timeline

Assist you with work permission and Medicare

Guide you through all stages of visa application and family sponsorship

Assist family sponsor and applicant with all documentation and declarations

Watch your deadlines and eligibility for the next stage of your visa.

Assist with the medical examination process.

When and if needed we assist with Assurance of Support and Bond.

Guide you through to Permanent residence and citizenship.
DO YOU WANT TO APPLY FOR A VISA TO AUSTRALIA?
Don't hesitate to contact us today! Call 1300 10 50 50
VISITOR VISA (SUBCLASS 600) TRAVEL STREAM ONSHORE
The Visitor visa (subclass 600) is for people who want to travel Australia as tourists, for business or to visit family. It is a temporary visa. This visa has four streams: Tourist stream: for people travelling to Australia for a holiday, recreation or to visit family and friends.
VISITOR VISA (SUBCLASS 600) FAMILY SPONSORED STREAM
The Sponsored Family stream of the Visitor visa (subclass 600) is intended to be used by people seeking to come to Australia to visit family. The Sponsored Family stream requires formal sponsorship of a visa applicant by an Australian citizen or permanent resident. In some cases, a security bond may be requested.
VISITOR VISA (SUBCLASS 600) BUSINESS VISITOR STREAM
The Business Visitor stream of a subclass 600 visitor visa is for a business person looking to visit Australia to engage in a 'business visitor activity', which includes: … investigating, negotiating, entering into, or reviewing a business contract. an activity carried out as part of a government visit.
VISITOR VISA (SUBCLASS 600) FREQUENT TRAVELER STREAM
As of 19 November 2016, there will be a new Subclass 600 (Visitor) visa stream to be known as the Frequent Traveller stream for frequent travellers which permits both tourism and business visitor activities and allows up to 10 years validity.
MEDICAL TREATMENT (SUBCLASS 602)
The Medical Treatment Visa (Subclass 602) is a visa for visitors who want to go to Australia to obtain medical treatment on a temporary visa. It is usually granted for up to 3 months and can be applied for by the person undergoing medical treatment, or by someone going to advise, advocate for or emotionally/otherwise support a person undergoing medical treatment.
VISITOR VISA (SUBCLASS 600) APPROVED DESTINATION STREAM
This visa stream is for citizens from certain areas of China visiting Australia on a tour organised by an approved travel agent.
ETA ELECTRONIC AUTHORITY TO TRAVEL VISA (SUBCLASS 601)
The Electronic Travel Authority (Subclass 601) visa is for persons who wish to visit Australia temporarily as a tourist or to engage in business visitor activities such as attending a conference, attending a business meeting etc.
EVISITOR VISA (SUBCLASS 651)
Visit Australia as often as you wish in a 12-month period. Stay up to 3 months each time you enter Australia.
WORKING HOLIDAY VISA ( SUBCLASS 417)
For young adults who want an extended holiday and to work here to fund it.
WORK AND HOLIDAY VISA (642 SUBCLASS)
The Work and Holiday (Temporary) visa (subclass 462) is for young people who want to holiday and work in Australia for up to a year. It is a temporary visa that encourages cultural exchange and closer ties between Australia and eligible countries.
LEARN MORE ABOUT THE TYPES OF VISA TO ENTER AUSTRALIA