Australian Registered Immigration Agency
How to find the best immigration agency?
The Australian immigration system is complex and can be confusing. Sometimes, more complicated cases may be also not easy. A professional immigration agency may save you a lot of time, money, and stress.
In Australia, all immigration agencies must register with the MARA. MARA stands for Office of Migration Agents Registration Authority.
Without MARN registration it is illegal to provide any visa advice.
Pacific Center current registration and length of our experience.
Check us out
on MARA registration site.
Why to choose registered migration agency and what to expect?
Pacific Center Immigration Agency specializes in migration law and visa services. 
General Skilled Immigration,

Corporate visa services for Business sponsors and Employers
We have agents experienced in dealing with the most complicated cases. If you think that your case is difficult or unusual, contact us.
Ask IF your migration agent:
Will explain and argue your case with the case officer, feedback unit, or consulates.
Will your agent look for support from local organizations, councils, employers organizations, and other associations (CCIQ) etc
Will your agent follow immigration checklist or present you with a creative way to win your case
LOOKING FOR ASSISTANCE WITH VISA TO AUSTRALIA?
Don't hesitate to contact one of our migration agents today. You're one click away from expert answers to your visa questions! Call 1300 10 50 50
An immigration agency with skills and experience can turn the red-tape and various requirements of an overseas move into a much simpler exercise than it would be when handling it on your own. It is unlikely that you understand all of the requirements and often waste time and money by not knowing which visa options apply to your situation.
Pacific Center Immigration Agency & Visa to Australia.com streamlines all of this for you. We have been assisting international immigrants, students, and tourists who require a range of visa applications since 2003.
Read on to see how our immigration agency can help you navigate the complex Australian visa application process today. We support all situations and work hard to find the best solutions available for you, giving you complete peace of mind along the way.
EXPERIENCE
Pacific Center Immigration Agency is one of the oldest visa offices in Queensland. Operation in Australia since 2003. Read on to see how our immigration agency can help you navigate visa application process today. We support all situations and work hard to find the best solutions available for you, giving you complete peace of mind along the way.
We have the knowledge, experience, and resources. Operation in Australia for 18 years. Currently, we have 3 offices in Queensland -Australia, 1 in Dubai, and many online consultants.
BEST AT
Our migration agency has legal professionals who specialize in:
all immigration matters,
citizenship application,
appeals & cancellations,
and non-compliance cases.
Our clients receive a thorough visa application process from consultants worldwide. All services available online, giving people all over the world easy access to our immigration agency services.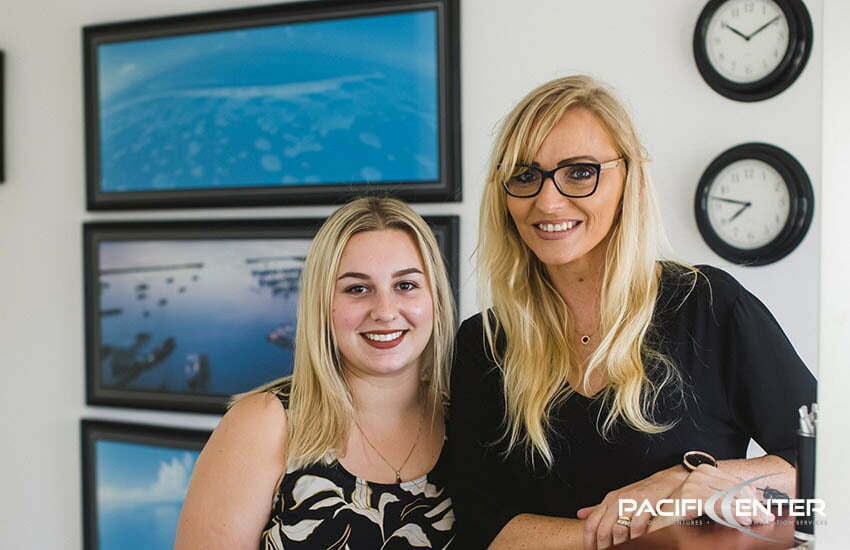 HOW WE WORK
We keep' 'Lawyer talk'' for The Department of Immigration. Our migration agents deliver clear, easy-to-understand information. It is important for you to understand immigration process. We act as a safety blanket, giving you peace of mind in knowing that you will check every box.
We aim to assist you in making the application process easy and clear and stress-free. Our migration experts understand and share core values – Transparency, Reliability, and Professionalism. Pacific Center employees have an individual approach to each case. We make sure you have the highest possible chance of success. We don't lodge an application; we prepare them to win.
LEARN MORE ABOUT THE TYPES OF VISA TO ENTER AUSTRALIA.
Contact our team here, at Visa To Australia, and book visa consultation with our migration agents.
Registration & Experience in Visa Agency
The most important thing to know when engaging an Australian Migration agent is that they must
be registered
with the Office of Migration Agents Registration Authority (MARA) to provide you with immigration advice and
assistance
. Check Pacific Center current registration and length of our experience.
It's important for you to understand, why a need a migration agent for your application.
Migration Agents go through extensive training and study about Migration Law, Regulations, and Requirements
.
It is to ensure we have the knowledge and understanding to help clients have the best possible outcome for their case
.
Migration Agents are here to assist you with navigating Immigration's regulations and policy's which can be very difficult to interpret – it is our job to ensure our clients understand their options, their rights & their case to the best of their ability
. It is also our job to ensure the right decision
is made
on a case. Migration Agents aren't here to obey Immigration's decisions – especially if
we feel
it is wrong. We have the option and the rights to fight for you, and for your residency in Australia.
LOOKING FOR ASSISTANCE WITH VISA TO AUSTRALIA?
Don't hesitate to contact one of our migration agents today. You're one click away from expert answers to your visa questions! Call 1300 10 50 50
How we can help you with your visa application?
We start with an initial appointment.
Here you will tell us about your history in Australia, your work experience, your qualifications etc
.
Once you have told us all about yourself, we find possible visa options for you. After an appointment, you will know your options. Then we issue you with a quote for the visas, and then we allow you time to decide what is right for you. During this time, we answer any and all questions you have in relation to your case with us. When you have decided to proceed with us – we issue you a contract & get to work.
We open your online portal and ask you to gather your documents. Then and check everything to ensure it is in line with Immigration's requirements. Once we receive all documents – we prepare your draft applications.
Then we sit with you (via phone or in the office) and go through your application & the evidence you have supplied.
Here we look for any discrepancies, or things to work on before lodgement of the application. Then when you are happy – we lodge your application!
skills assessment applications,

EOI (Expression of Interest)

Applications,

State Sponsorship Applications,

RCB

arranging RPL/technical interviews etc.
"Providing advice relating to the Client's migration goals and their choice of visa category and providing frank and candid advice about the prospect of success for the visa application
Initial advice & consultation with the presentation of possible options. The first meeting with the migration agent is to establish what is the best way to apply for your visa.
Providing advice for goals and visa category and providing frank and candid advice
Analyzing current Immigration Law
Lodging all stages of the application
Prepare supporting submissions
Submitting the application
Completing, compiling, attaching, and analyzing supporting evidence as required
Monitoring status, progress, and relevant changes
Supply any further documentation, and information
Migration agency do's and don'ts
Whoever is giving you visa or immigration advice must have MARA registration. Ask for their MARN number as your first question. Once you have this, you can check their MARN number online. This is where you can see how much experience the agent has.
Choosing a migration agency look for:
Years of experience.
Formal registration MARN, ABN, ACN
For appeals, you may check public records to see results
How many support staff can help you
Ask about submission preparation to support your case
Will you be receiving a copy of supplied documents?
Ask if someone will check and verify your documents
Administration Service in Migration Agency:
Signing documents to start your case. This must include a formal agreement usually called a Cost Agreement and Form 956.
Opening your client's account.
Opening online portal where you can transfer documents.
A detailed list of documents.
Step by step plan of what to do next.
Support with documents, forms etc
Updating documents, and checking deadlines
Keeping you updated with the progress of the case
Migration agents must:
Complete postgraduate course and pass a national exam
Operate according to Code of Conduct,
Follow all rules and legislation
Provide honest and educated advice
Keep funds on Trust (Client) account
Take ongoing training to stay up to date
Pay for Professional Indemnity Insurance
Have professional membership in Legendcom to access Immigration's policies and interpretations
Don'ts
Your friends, colleagues, or family can help you but they won't have the knowledge that a Migration Agency has.
Google, forums, and non-professional blogs are not professional advice.
When overseas, look for registered Migration agents, best registered in Australia.
Non-experience agents are great as support, not a leader.
LOOKING FOR ASSISTANCE WITH VISA TO AUSTRALIA?
Don't hesitate to contact one of our migration agents today. You're one click away from expert answers to your visa questions! Call 1300 10 50 50
Global team. World-class results
Hey there, I am Piotr Ferenc, the Managing Director and Registered Migration Agent of Pacific Center. I wear many hats but to simplify my role on a daily basis you can find me managing the business, providing migration education and advice and representing our clients in front of the Immigration department and Administrative Appeal Tribunal.
Hi. My name is Karolina Ferenc and I wear many hats in Pacific Center, i am a Director as well as Marketing Manager and the Accounts Manager and Technology Implementations just to name a few of my roles.
Hey my name is Brittney and I'm a Senior Case Manager here at Pacific Center. In my role I help our clients to gather their documents for their Visa applications. I work with our migration agent to ensure clients Visa applications are as strong as possible to ensure a positive result. The thing I love most about my job is when we receive decisions from Immigration and being able to share that news with the client that they are now a permanent resident.
Hey everyone, my name is Paulina and I'm a RMA Personal Assistant and case manager at Pacific Center. In my role I work with clients from everywhere around the world, many of them are from Poland and applying for Student Visas and are seeking assistance with their School enrolments.
How much cost migration agent service?
Although we tend to price projects on a case-by-case basis, this is a guide to the services and project packages we offer to our clients.
Immigration and visa costs have a few elements to them.
The first element is a Visa fee which
is charged by
the Immigration Department. Those costs are payable at the time of visa lodgement.
Sometimes final visa fees depend on your situation. Are you in Australia or offshore at the time of lodgement, Who in the family
is included
in the application etc.
Some of the visa fees are due before visa decision. For example Second Instalment or Assurance of Support (Bond).
In our agreement, we list visa fees as disbursements. We list them for you, to ensure you understand all possible costs related to your application.
The second part is Migration Agency fees. This is the payment for our work. In most cases, we base this on a lump sum agreement. We very rarely work on an hourly rate as we like to spend as much time on your case as we need.
You will find the fees in our cost agreement listed in the Fees section.
Sometimes we will give you the option of few different fees for different stages of work.
The last element you should consider for visa fees, are the extra costs for:
· Overseas Police Checks etc
We will let you know about most of these fees upfront.